Vicki Gunvalson fells guilty.
The Real Housewife of Orange County
talked to E! News this week about her divorce from husband Donn and said she regrets going off about such private issues on reality TV.
"I hurt Donn a lot by exposing all of the things that I did," Vicki said. "Which I never meant to do. The unfortunate part is I started talking to Tamra [Barney] in confidence, and you tend to forget that there's a microphone on and she's like, 'What's wrong with you, what's wrong with you, what's wrong with you? You're not yourself.' And I just started unloading. And the cameras caught it."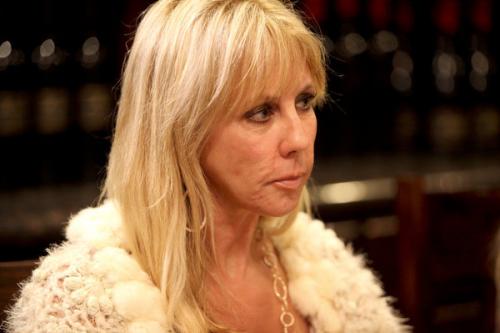 Vicki added that she loves and respects Donn and they are in the process of mediation.
Regarding the season finale, which was filmed at Vicki's house, and the subsequent reunion special, this Housewife sure knows how to set up a tease - and gross out viewers.
"I cried 15 hours, the entire time, I couldn't get control of my tears," she said. "I got in the limo at the end and my stomach was just in a knot. I thought, am I going to throw up or am I going to have diarrhea."
Ah, lovely.