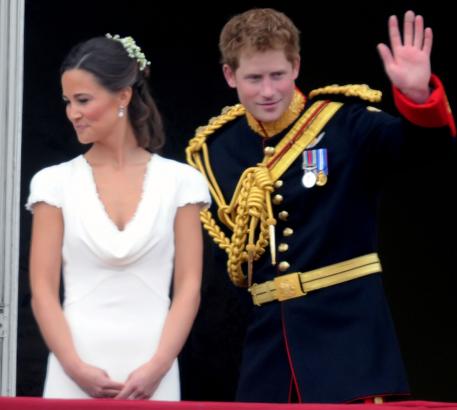 Should these two become a couple?
Could there be a second Windsor-Middleton Royal Wedding on tap?
We doubt it. If Prince Harry and Pippa Middleton actually became a couple, we would be astonished. But the two are said to have become close.
The Daily Mail is reporting that the Harry and Pippa have met a few times since the Royal Wedding and "have nicknames for each other." Oooh!
Pippa is still together with Alex Loudon, despite reports of a split, but they are going through a rough patch and she has a confidant in Harry.
Similarly, as he's grown closer to Pippa, Harry's relationship with his longtime on-again, off-again girlfriend Chelsy Davy is reportedly strained.
A source is quoted saying of their budding relationship, "He only recently came out of a relationship, of course. He's trying to cheer Pippa up."
That's one way of putting it.
Harry and Pippa Middleton turned heads when they were seen at recently a restaurant in London where they spent a couple of hours talking.
The insider says, "They speak on the phone all the time and have met up at least five times since the wedding, once for tea at his Clarence House apartments ... She thinks he's got a really cheeky sense of humor."
As for the nickname thing?
Middleton reportedly refers to Prince Harry as 'Captain,' which is his rank in the British army, while Harry calls her 'Commando,' a reference to the rumors that Pippa Middleton was not wearing any underwear at the Royal Wedding.
Further comment unnecessary.
thehollywoodgossip/Photo: WENN.com